We offer customized training in the areas of innovation, brainstorming, creativity, and brainstorming facilitation.
This includes options for training your team members in creative problem-solving, creative thinking, ideation techniques, leading a brainstorming session, and how to run an effective meeting.
We have developed a large number of proprietary models, charts, tools, tips, tools, tricks, and techniques to help your team capitalize on their creativity and increase their innovation capacity.
Training can be designed and delivered in multiple formats including:
Face-to-face training (team training and/or one-on-one training)
Online training
Video and/or audio training
Webinars
Mobile devices and customizable apps
Teleconference
Learning Management Systems (LMS)
Your company's intranet
We have also designed and delivered train-the-trainer programs to allow your training team to learn how to teach your staff these skills.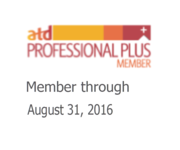 We have been involved in (and members of) the Association for Talent Development (formerly the American Society for Training and Development / ASTD) for over a decade.  This is the largest professional association of trainers in the world.
---
Samples of Training Programs
Do you want to "change the game" in your business? There are BIG rewards for people who challenge the status quo. Innovators and disruptors are never content with slow, incremental growth.
---
Are you wrestling with nagging "Million Dollar Problems"?
Have you lost sight of pursuing game-changing strategies?
Does your team need a creative spark to get out of the rut?
---
MANY people think "BrainStorming" is BS! Why? Because they've participated in such pathetic brainstorming sessions and seen so few results. Domineering colleagues, secret agendas, pitiful preparation, aimless wandering, stale topics, inefficient methods, poorly trained facilitators, lonnnnnnng meetings, and all for what? NOTHING is often the RESULT of these "innovation" events.
---
People (and company cultures) tend to develop routines and thinking patterns that limit their ability to adapt to change. Even the phrase "think outside the box" has become trapped in a well-worn cliché box. Many people simply don't see the attitudes, behaviors, and mental models which affect their ability to grow and discover new ways of thinking.